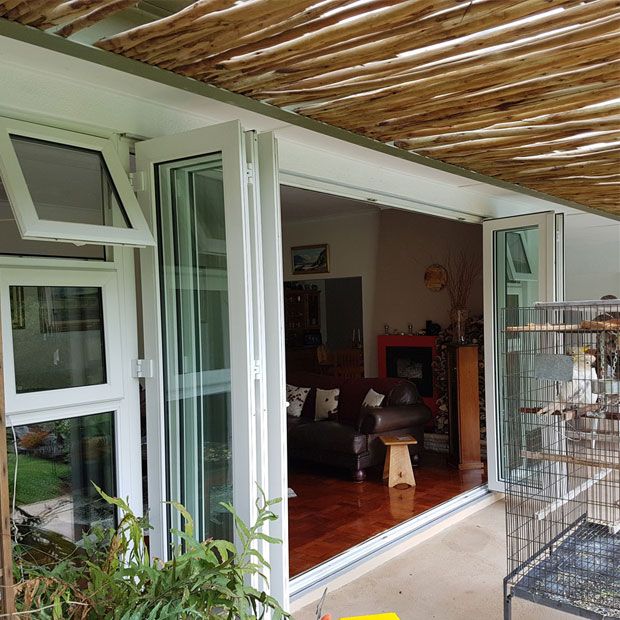 In this article, we will talk about uPVC bifold windows and talk about uPVC bifold window models, prices and working system. All products under the Elitetec brand are made of uPVC material, including uPVC bifold windows. uPVC bifold windows are generally used in kitchens and balconies, and uPVC bifold windows can also be used in restaurants and hotels. The reason why it is used in these areas is that bifold windows do not block the view, provide good air circulation and are easy to use. If you have a window that you need to use in your kitchen, balcony or restaurant, uPVC bifold windows will be the best choice for you. These bifold windows have a casement feature and the casements are located at two extreme points.
The windows in the middle are connected to these casements and it is not possible to close and open the casements without lifting the window handles. In addition, uPVC bifold windows can be sliding. Usually sliding bifold windows are used on balconies and act as a transparent wall. People generally want to see the outside in their environment. Imagine being in a room where you can't see the outside, and there are no sights to see. You will feel overwhelmed and bored. You will think that you are psychologically suffocated and that you cannot breathe easily.
uPVC bifold windows are made for just that. Having a full-length window will make you feel much more comfortable while sitting in a restaurant or at home. This type of windows can be used to open all windows completely or to open a single window thanks to its casements. When the bifold windows are opened, the view and the air you will get will reach you completely.
That's why this type of window is found in many places. When both wings of bifold windows are opened, you cannot see any defects. Because the windows that are not in the corners are closed on the windows that are in the corners. In addition, uPVC bifold windows are very successful in terms of security. Bifold windows are equipped with high security locks to protect your home and business very well, and the glass to be used in the windows is of great importance. The difficulty of breaking the glass will make it very difficult for intruders to enter. Elitetec uPVC bifold windows have noise insulation, heat insulation and in addition, they provide very good air circulation inside your room. As with all products of Elitetec brands, bifold windows also pass the tests and successful results are achieved in the tests.
You can often see this type of windows in Northern or Southern countries. Bifold windows are resistant to all seasons and temperatures and are manufactured according to your wishes. Bifold windows are suitable for all types of houses and restaurants with their stylish and beautiful appearance. Thanks to this feature, it does not look absurd in the place where it is located and makes the environment even more attractive. Also, if you want to examine uPVC bay windows, you can click on the link and visit our page. For detailed information about uPVC bifold windows, you can continue to read our article.
uPVC Bifold Windows Prices
With the development of technology, windows no longer open and close in one direction. In the past, windows used to open and close only inwards and outwards, but now the windows can be opened and closed in both directions and have the feature of being sliding. uPVC bifold windows are also included. uPVC bifold windows prices may vary according to their size and there may be a price increase accordingly. If you want a window that will cover the whole wall, it is possible to increase the uPVC bifold windows prices. uPVC bifold windows prices are suitable for family economy, but the price is slightly higher than other window types. uPVC bifold windows prices are not due to the different material. All Elitetec products are made of uPVC material and are very durable. uPVC bifold windows are sold to many countries and it is very likely that you will see these windows in any country you go to. Elitetec uPVC bifold window prices are determined according to all these features and offered for sale. You can call us to learn more about uPVC bifold window prices.
uPVC Bifold Windows Models
uPVC bifold windows models can be produced in many different ways. Generally, these windows are produced in large and small sizes and sliding models, but they can also be produced in different designs and different colors. uPVC bifold windows models are designed according to your request and the place you will use, and we recommend the most suitable one for you. uPVC windows models do not allow you to encounter any problems and every model of this type of window has heat and noise insulation. If the models change, there will be no change in terms of durability and safety, and you can easily clean them.
uPVC bifold window models are designed to provide the best air circulation in your room, and you can breathe very easily in the room.
uPVC window models can be produced in different colors, you can easily access the color types from the page on our website to see the color variety. In addition, all window models are produced as you want. If you do not want the window to interfere with the view you will see in the room you are in, bifold windows are designed accordingly. If you want more security, many lock systems can be added to bifold windows. Bifold window models can be used for many years due to its material and paint used. None of the bifold window models are dirt-proof, rustproof and rotten. It is more reliable than wooden window models and has a more elegant appearance.
uPVC bifold window models are suitable for all types of houses and restaurants. If you want to use it in a classic place, it is designed according to it, or modern models are completely according to your wishes and preferences. In addition, to get detailed information about uPVC casement windows, you can reach this page via the link, and you can find detailed information about these windows.
uPVC Bifold Windows System
In this article, we will talk about how uPVC bifold windows systems work. This knowledge will give you a better understanding of how to use uPVC bifold windows. uPVC bifold windows have sashes at both ends and these windows are bifold as is known. When the wings are opened, they close or open the windows in the middle towards the corners. Thus, the interior of the room is ventilated very quickly, and the outside can be seen very easily. All or only one of the windows can be opened. Each of the windows is interconnected. In addition, the bifold windows help sunlight reach easily and prevent a dark environment from forming during the day.
The operation of uPVC bifold windows systems are very simple and there are no problems when this system is running. Frequent opening and closing of window sashes do not slow down the operation of the system or allow it to open and close with difficulty. Because Elitetec windows were produced at the same time, these tests were carried out at the same time and these windows passed the tests successfully. Keep browsing our page for detailed information about Elitetec uPVC windows and doors, and if you want to order, don't forget to call, or email us to reach us.
| K=1.80 W(M2.K) | Thermal |
| --- | --- |
| Rw = 44dB | Sound Insulation Rating |
| qo = 0.76M3/h.m | Air Infiltration |
| ΔP=300Pa | Water Penetration |
| Positive= 3.5kPa | Ultimate Strength |
| Negative= 3.5kPa | Wind Pressure |