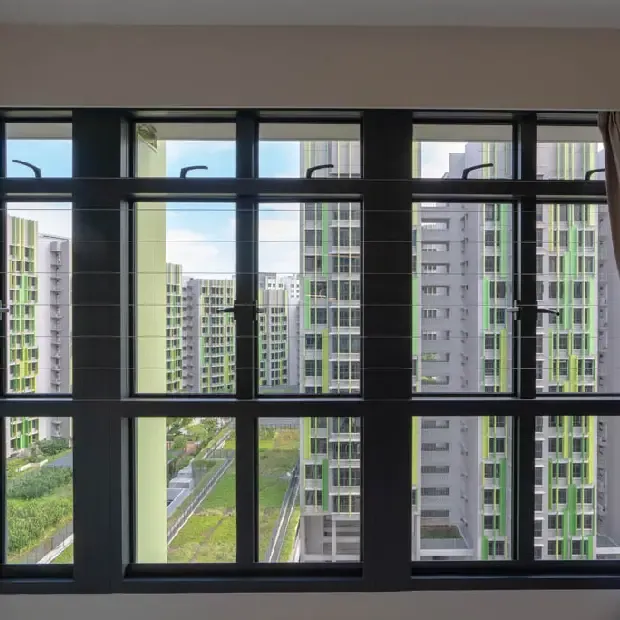 In this article, we will give you information about the soundproofing window. Features such as the way the window opens, its design, and its functionality are very important points to consider in choosing the right window. Another important point to note here is that the window should be a soundproofing window. Fortunately, the Elitetec family produces aluminum windows and uPVC windows with a wide variety of opening properties to suit your every need. We would like to inform you in the most comprehensive way about our products. We hope that after reading our article, you will have a lot of information about our brand.

Soundproofing Window
People want to experience elegance and comfort at the same time when choosing windows. Because their home is their shelter. That is why people tend to make the best choices for their home. You have decorated your home in a very stylish and elegant way, and you have set the thermostat to your ideal temperature. You may think that the only thing you cannot change is the outside noises. However, we would like to say that you are wrong about this. You will reduce unwanted sounds with Elitetec windows.
If you can transform your home into a quieter and calmer space with this soundproofing window. Are the negative factors that will affect your living space only adverse weather conditions such as snow, wind, cold weather, rain? Perhaps the most disturbing of these negative factors is the noise coming from outside. You must choose quality windows for your home to ensure for this reason, when choosing your window, you should pay attention not only to the thermal insulation properties, but also to the sound insulation properties. After all these evaluations, you should make sure that you choose the right window.
As Elitetec family, we design products focused on maximum efficiency for you. You decide on your window, and we will offer you elegance, durability, and comfort together. In this article, we will give a lot of information about the features of the window that will be the right choice for your home. In this article, we will also talk about issues such as soundproofing window prices, soundproofing window models.
Design Your Living Space with Soundproofing Window
Windows are the points of the houses that open to the outside. We can show a careless attitude when choosing windows, which are very important for our houses. However, it would be a very wrong choice to see the window as a product that will only separate the interior from the outside. We should care about choosing the right window. For this reason, when it comes to windows, it is necessary to give importance to the preference of windows that stand out visually in terms of both functionality and aesthetics. For example, Elitetec With soundproofing window blinds, you can have functionality and aesthetics at the same time.
Most Durable Soundproofing Window Models
The location of the house is very important when choosing a window. Window selection according to the location of the house will provide many advantages to the user later. For example, if you live in a place where the winter months are harsh, you should make sure that your window has protective features against high cold. Or if you live in a place where you are exposed to the noise of the city, you should choose your window accordingly. In such a case, using a soundproofing window will be very useful. Apart from this, it is extremely important that the window is compatible with the house, and that it is functional and durable. The features such as energy efficiency and impact resistance of the window you will choose define that a window performs well. For example, thanks to the soundproofing window blinds you will choose, your living space will be much more comfortable, and the interaction with external factors will also disappear.
Soundproofing Window with High Quality, Innovative Design
Noise from outside is a problem that can easily seep in. Consider, for example, how annoying the outside traffic noise can be in some situations. If you are at home and hear outside noise, it is likely airborne sound waves are leaking through the gaps in your windows. This indicates that your windows have insufficient sound insulation. Indoor noise to enjoy a quiet and comfortable home level should be low.
Noise from the environment can affect your comfort, increase stress levels, and impair your ability to learn. In summary, a window with poor sound insulation can affect your health and quality of life. Noise can enter your home through walls, floors or ceilings. However, the most obvious point where noise can enter our home is windows. That's why windows should be one of the first things you should consider when trying to improve sound insulation. As Elitetec, it has always been one of our priorities to provide our customers with maximum ease of use while designing our window models. We strive to provide a quality service. We make your home look stylish and spacious and protect you from noise.
The windows, which are the most important part of your home, are carefully prepared by our expert team. While producing windows in different styles, we pay attention to the dimensions and needs of your rooms. While trying to offer you quality and functional products, we care that these products are suitable for your budget. When you choose Elitetec soundproofing window to protect your home from environmental noise, you will not have to worry about Elitetec soundproofing window prices. While determining the Elitetec family soundproofing window prices, we try to offer you the best quality product in the most appropriate way.
In this article, we tried to give you information about soundproofing windows. You can visit our website to get to know us better and to examine our other products such as uPVC top hung windows. You can make the right choice for your home by contacting our experts. You will never regret choosing us while making the right choice for your home.