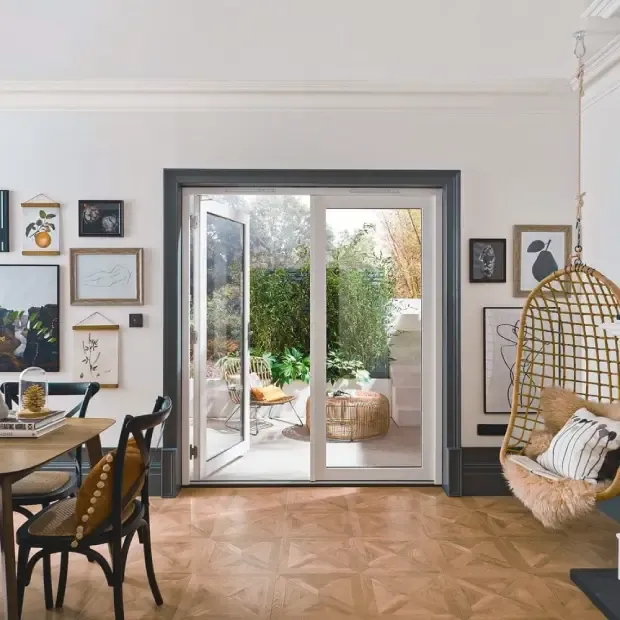 In this article, we will talk about the patio sliding door. Simplicity and elegance are very important elements for homes and workplaces. We all need decoration pieces that show our boundaries of our living space more stylish and aesthetic. One of these decoration pieces is the doors. You can add a stylish look to your homes with your preferred Elitetec doors.

Patio Sliding Door
Elitetec door models will add a completely different atmosphere to your home. So what are the features of these doors? These doors are designed for wider openings unlike other doors. Patio sliding door or sliding patio door blinds are designed for use in wide openings such as courtyards, terraces, balconies, or gardens.
Of course, these stylish doors can also be used to combine or separate rooms and areas, depending on their use. For example, there is a room with a large volume in your house. It allows you to divide or combine this room when necessary, according to your usage needs. In summary, the usage areas can be diversified. You can diversify your sliding door patio ideas by examining the products on our website.
There are many companies that produce doors and windows, but unfortunately it is very difficult to find a reliable brand. While the number of companies producing doors is high, the number of companies with good service quality is very few. Elitetec family is one of these rare companies that is reliable with its superior service quality. You will be pleased to have this functional, stylish and high quality door that we produce for your balcony or garden.
These carefully designed doors are a very good choice for your balcony or garden.We are sure that you will be satisfied with using these doors. Before continuing our article, we would like to state that as Elitetec family, we do not only produce doors. Our products such as uPVC doors, uPVC windows are available on our website. In this article, you will also find the answer to your question, what are the patio sliding door prices.
Design Your Living Space with Patio Sliding Doors
We want our house to have an elegant and stylish appearance while designing its rooms. We should show the same care in our balcony and garden decorations. Your decoration will be more elegant with the doors specially designed for balconies and gardens. Stylish and safe doors that support the design of your balcony and gardens is the right choice for your living space. These unique models can be produced as double-winged or multi-winged.
The number of wings may vary according to the distance of the passage area. The wings work independently of each other. These wings can be slid to the right and left. Multi-leaf door systems are more suitable for wide openings. Contact us If you pass, you will have no doubt that you will do the pricing work of the projects that suit your wishes and desires in the most appropriate way for your budget. When you choose Elitetec family, you do not have to worry about patio sliding door prices.
Most Durable Patio Sliding Door Models
Elitetec patio sliding door models, which you will prefer in your balcony and garden, are preferred not only for their designs but also for their safe features. It is the most elegant solution you can use for the security of your living space. This door model, which you prefer for your balcony and garden, is very durable.You can use these products for many years.
In summary, functional doors will be the right choice for your garden or balcony not only with the elegance of their designs, but also with the durability they offer you. These durable doors we produce offer you different sliding door patio ideas with different form options. In our article, we talked about how durable and aesthetic these doors are, which may have caused the question of what the patio sliding door prices in your mind. While producing our products, we not only pay attention to their durability and functionality, but also care about your budget.
Patio Sliding Door with High Quality, Innovative Designs
In the last part of our article, we will focus on the elegant and stylish design of these doors, which are specially designed for your gardens and balconies.We know that every person wants to have a beautiful garden or balcony. The doors of balconies and gardens contribute to a more different and creative look. Here, quality and durability are as important as design. These latest model doors produced by the Elitetec family are at least as good as other products.
Therefore, it is in a very advantageous position for your garden and balcony. Patio sliding door models are produced and offered for sale in many different models and colors. If you want to add a different atmosphere to your balcony or garden, you are at the right address. We have more than one option to add a different atmosphere to your garden and balcony. We take you into consideration when you present your ideas to us. We try to produce according to your wishes.
It would be wrong to think that doors are produced in a single model. Although we have products in different models, you should not doubt that the strength and durability will be the same in every model. The raw materials used in all our models are of the same quality. We use very durable and high quality materials in all our door models. You can easily choose the model according to the size of your garden and balcony. All of our products are long-lasting. Therefore, there is no doubt that you can use these doors in any model you want for many years.
In today's article, we tried to give you information about patio sliding door features, usage areas and prices. If you want to find the right door for your garden or balcony, you can visit our website and contact our experts. Our gardens and balconies play a key role in your living space, where the first impression is formed about our house and our style and gives an idea about our house with its visuality.