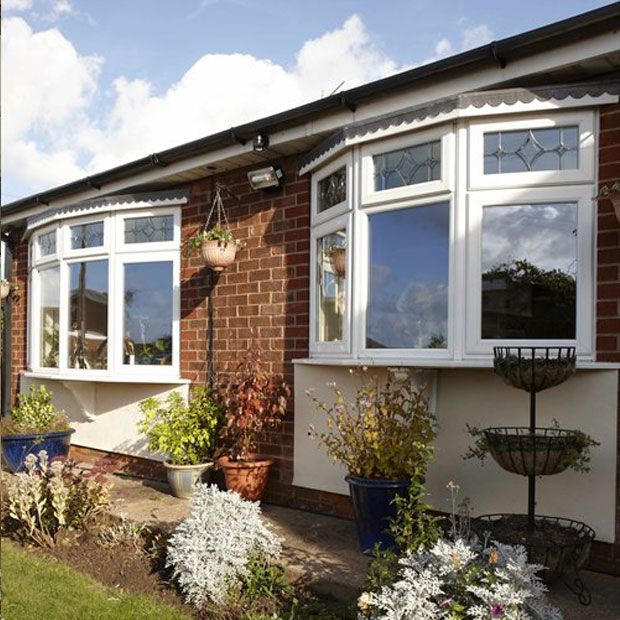 If you have questions such as what uPVC bay windows are and what are their uses, this article is for you. In this article, we will give information to our valued customers about uPVC bay windows, and you will learn what uPVC bay windows are. You must have come across detached houses while walking outside, and these houses usually have bay windows. Bay windows are usually found in waterfront, villa style or detached houses with gardens and make the house look very nice from the outside.
uPVC bay windows enrich the rooms of your home, these windows, which will be the focal point of your rooms, can be a pleasant reading corner. This versatile window allows for all opening options. A pair of fixed windows and one opening casement can create great looking bay windows. With uPVC bay windows, you can provide a different aesthetic appearance in your home. This type of window consists of 3 different glasses. While there is a narrower window on the right and left sides, there is a wider window in the middle.
The windows on the right and left sides can be produced as fixed or opening. Different openings can be achieved with bay windows. It can be produced in the desired color and model. The quality and material of the window is very important to provide insulation and as you know, all Elitetec products are made of uPVC material and there is no need for any doubt about durability and quality.
In addition, while the bay windows look beautiful from the outside of your home, they look as beautiful from the inside as from the outside, and also thanks to the width it provides, it offers the opportunity to use this partition as you want. If your home is a villa, a mansion or a classic house, uPVC bay windows are a suitable choice for you. Bay windows are common in historical homes. Initially, bay windows were made of wooden material and gave a very elegant appearance, but with the development of technology, bay windows could be produced from uPVC material. Thus, bay windows became a useful window not only for historical houses but also for modern detached houses.
uPVC bay windows have sound insulation and heat insulation. You can adjust your window according to the season and use it according to the current season. In houses with bay windows, the large area is more and the amount of light the room receives gains width. Because bay windows consist of three pieces of windows. These windows can easily bring sunlight into your room from the direction of the sun. As we said, bay windows consist of three windows of various sizes. Two fixed or opening windows on the right and left can face the wall at an angle of between 25 and 45 degrees, providing good ventilation together with the unobstructed view provided by the wide middle casement. The type of glass to be used is very important in order to avoid heat loss.
Elitetec prefers and recommends the highest quality glasses to prevent heat loss. The area to be selected should be determined well, so that the room with the bay window will be evaluated in the best way. uPVC bay windows do not pose any problems in terms of security and are also successful in terms of durability. As with all other products, Elitetec uPVC bay window products have passed the tests successfully and are offered to customers after these tests. In this article, we have given you information about uPVC bay windows, you can continue reading our article to learn about models, prices and many more details. Also, if you want to get information about uPVC shape windows, you can access the page via the link.
uPVC Bay Windows Prices
uPVC bay windows are the type of window sold in countries such as England, USA, Germany, Belgium, Turkey and in many countries. Elitetec recommends you to contact us about uPVC bay windows prices because detailed information can be given more easily in this way. Depending on the model and design you want, uPVC bay windows prices may vary, but don't worry, it is affordable for your family's economy. uPVC bay windows prices are at an average price compared to other glass types and are produced in certain models.
uPVC bay windows prices are suitable for family economy and pricing is determined according to the features you want. The material used does not affect the uPVC bay windows prices because Elitetec produces its products from uPVC material, as in all its other products. uPVC bay window prices are at reasonable prices and beautify the look of your home. Pricing is as seen on our page. In addition, the appearance and features of this window type are more important than the price. uPVC bay windows prices are determined according to all these features. In addition, if you want to get information about uPVC top hung windows, you can visit our page via the link and get detailed information about this type of windows.
uPVC Bay Windows Models
uPVC bay windows models are produced in many different patterns and designs. uPVC bay windows models do not have much variety, but generally this type of windows consists of 3 windows and there is a window in the 2 wing parts and a window in the middle part. uPVC bay window models are produced according to the taste and preference of the customer. Bay windows can be produced in many different colors. To find out what these colors are, you can reach the relevant information on our page.
uPVC bay windows models are suitable for detached houses, villas and mansions, and they also add a very good atmosphere to houses with gardens. In addition, the bay window models add a different air to the room and have an appearance as if they are from old times but adapted to modern structures. It is very difficult to encounter any problems with uPVC bay window models. These windows are very easy to maintain and do not pose any difficulties during cleaning. You can also ventilate your room as you wish.
uPVC Bay Windows System
As we approach the end of our article, we will talk about uPVC bay window systems in this section. uPVC bay window systems have been made to be installed in every house today. Bay windows consist of 3 windows and these windows open and close in one direction. According to your request, the glass can be opened towards the inside or outside, and the glasses on the corners have wings. These wings hold the glass in the middle and further increase the rigidity. Thanks to the wings, the ventilation system becomes more effective and continues as air circulation in your room. It has heat insulation and sound insulation. In this way, you are less likely to be disturbed by noise and heat while sitting in that room.
uPVC bay window is easy to use as with other glass types. If you open and close your windows frequently, this will not be a problem and the bay windows will continue to work as if they were mounted for the first time. Bay windows are an ideal window for your home. As we have said, they are an indispensable option for detached houses. If you want your home to look great both inside and out, this window model is the most suitable window for you. Do not forget to contact us and follow us for detailed information about uPVC windows and doors.
| K=1.80 W(M2.K) | Thermal |
| --- | --- |
| Rw = 44dB | Sound Insulation Rating |
| qo = 0.76M3/h.m | Air Infiltration |
| ΔP=300Pa | Water Penetration |
| Positive= 3.5kPa | Ultimate Strength |
| Negative= 3.5kPa | Wind Pressure |