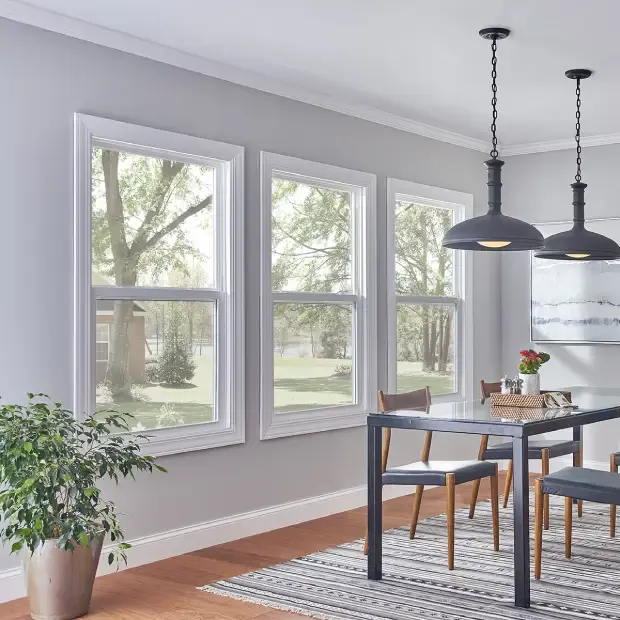 Today we will talk about the side hung window with you. In this article, you will find the answer to the question of what is this window is and learn about its features and advantages. The first thing that many people pay attention to when moving to a new house is the interior structure and decoration of the house. However, it would be a very wrong attitude for us to care only about the interior structure and decoration of the house. What is another important thing in home decoration? Of course, windows. Many people see windows only as products that will separate the inside from the outside. Being sloppy in choosing can lead to many negative situations in the future.
Side Hung Window
Wrong window selection will cause problems such as heat loss and noise pollution in the future. In order not to deal with such problems, we do not take care to choose windows that stand out with their durability. Elitetec window will be the right choice for your home in terms of both durability and functionality. Because the side hung window we produce as Elitetec is durable, practical, and safe. All our window models are very functional. Thanks to these features, they allow you to save space in your living spaces.
For example, there is a narrow area in your home where it is not possible to open a window. Do not worry. You will be able to overcome this problem with our Elitetec side hung window models. Because when you are faced with such a situation side hung windows or side hung window blinds will provide you with great convenience. Our models have heat and sound insulation features as well as stylish and practical use. This window with many features is a highly preferred window type compared to other window types. There are many advantages that this windows provide. We will inform you about these advantages in the continuation of our article.
In the next part of our article, we will also talk about issues such as side hung window prices, side hung window models. After reading our article, your side hung window ideas will be diversified. Keep reading our article to learn more about this very useful window.You can also visit our website and review our other quality and functional products such as uPVC windows, uPVC doors.
Side Hung Window Prices
In this part of our article, we will try to inform you about the side hung window prices. We have said that these multi-purpose windows are preferred more than other window models due to their many advantages.These are a product that offers solutions to many problems thanks to its technical structure and durability. These windows, which have invisible interior and exterior transitions, provide you with a high level of comfort and space saving.As Eitetec, we are trying to offer you modern-looking solutions with side hung window or side hung window blinds. All these advantageous features may make you wonder about the side hung window prices. The price of a window varies according to many different factors such as the material used, the system of the window and the functional properties of the window. Naturally, these changes also affect the prices. However, we can guarantee that you do not have to worry about this. We do not want you to get wrong impressions about the price and create negative side hung window ideas in your mind. Because as Elitetec family, we care about providing you quality products and keeping them within your budget at the same time.
Side Hung Window Models
Now, towards the end of our article, we will give you a brief information about the side hung window models. Since the type of each house will be different, the suitable window model will also differ. As the Eitetec family, we try to appeal to every house type by producing windows with different models and features. We try to ensure that your side hung window ideas are diversified by producing products in different models. As the Elitetec family, we do not manufacture windows in a single model.We also have different door and window models. You can review all other Elitetec products by visiting our website.
There are some criteria to consider in window selection. It is a criterion that must be present. The size and design of the house are among these criteria. For example, if you have a large and spacious room in your house, choosing a small window will not create a pleasant image. If your room is very large, having few windows in this room will not be a good choice in terms of view and light. There are many criteria that are effective in choosing a window.Let's not forget this important point, when choosing a window, you should focus not only on the type of house, but also on your own needs and tastes. After all, your home is your most valuable living space.
Side Hung Window with High Quality, Innovative Design
We do not act very carefully when choosing windows for our houses. While decorating our house, we forget that the choice of windows is at least as important as the choice of the wall color of the house. By choosing the right window, we can save energy and save space. Choosing the right window for comfort is of great importance. Elitetec side hung window is long-lasting, durable, and decorative for your home.
It will be the right choice. Since these windows, which can adapt to the space used, can be produced in different models, they offer you many profiles. These windows, which can be designed according to your taste, will create a stylish and elegant appearance in your home. As in all our products, we care about your expectations and preferences in this window model.We offer you the same quality, durability, elegance, and comfort in all our models.
If you want to renew your windows and choose the right window for your home, you can review our website and contact our team.