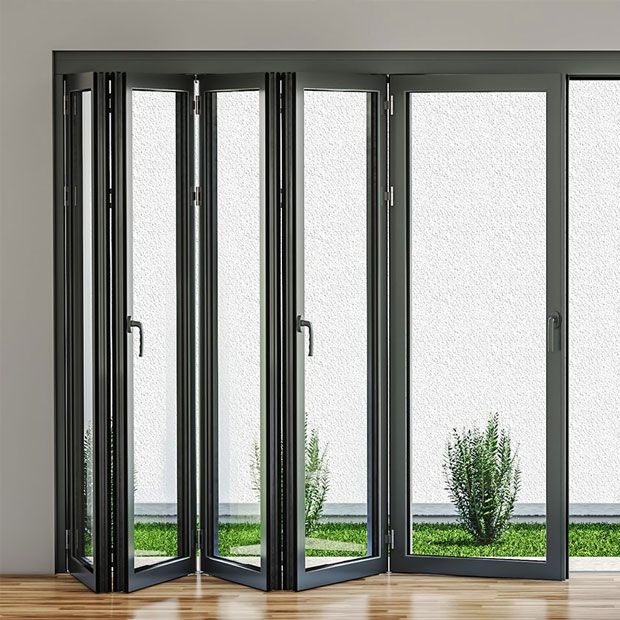 In this article, we will give you information about Aluminum stacking folding doors. Aluminum stacking folding doors are a product that is preferred by users with its ease of use and function. Aluminum stacking folding doors can be used on balconies, gardens and are also used by people who want to create different spaces for a stylish and aesthetic appearance. Aluminum stacking folding doors are unaffected by external influences, provide practical use and refresh interior spaces. In addition, they are durable and economical products.
Aluminum Stacking Folding Doors optimize your lifestyle by drawing the outside environment into your home with minimal space usage. This high-performance system offers different types of opening, both inward and outward, to meet all possible requirements. In addition to the standard folding doors, it has a main door principle where the first wing is used as the entrance door without affecting the other folding wings.

The Aluminum stocking folding door creates flexible and innovative solutions for the architectural interior and exterior spaces between the open and spacious living spaces. Also, Aluminum Stacking Folding Doors are used in restaurants, cafes, bars, winter gardens, roof terraces and many more. Aluminum folding door and window systems have been the first choice of consumers and have become a great solution for their needs, as aluminum is light and long-lasting, heat insulated, can be opened and closed easily and at the same time has a waterproof structure.
The working system of aluminum stacking folding doors works with the movement of the panels formed on the rail and interlocked with each other and does not occupy space with its thin structure. With its easy-to-remove feature, the folding doors have an ergonomic feature. Aluminum stacking doors continue to maintain their mechanical properties at low and high temperatures. This is especially important in applications with high and wide frame intervals. Aluminum stacking doors are light and durable, as well as having a very high application precision, providing customers with customized design possibilities.
All products under the Elitetec brand also attach importance to customer recommendations and choices, as in this product. Since this type of doors is durable, it allows the use of frames with less visible width. Aluminum doors are very easy to maintain, they do not rust and rot, the colors on the door do not wear out and fade over time. In this way, it allows you to save in every aspect. In addition, if you want to get detailed information about aluminum pivot swing doors, you can visit our page via the link and get detailed information about these doors and contact us.
Aluminum Stacking Folding Door Prices
Aluminum stacking folding doors are economically very suitable according to the features they offer. These types of doors come to the fore as they are both lighter, more functional, and more economical than metal doors. Aluminum stacking folding door prices are suitable for the economy of every family and the economy of every workplace. Aluminum stacking folding door prices are a little more expensive than wooden doors, but wooden doors have almost nothing to offer. Aluminum stacking folding door prices may vary according to design and size, but you can examine our site further or contact us to see specific prices. Aluminum stacking folding door prices are both robust and economical due to the material from which they are produced. Therefore, it is a type of door that you can see in most places. When you choose this door in your workplace or home, you will be more likely to save money and you will feel happier. Aluminum stacking folding doors are in a very good position in terms of price performance and Elitetec will always support you in finding the product that suits you best.
Aluminum Stacking Folding Door Models
Aluminum stacking folding door models can be of many different types. First of all, these doors can be produced according to special designs and preferences, as in all our products. Aluminum stacking folding door models can be produced as sliding, folding inwards or outwards or folding doors in both directions. Aluminum stacking door models can be produced in the desired size and features and the glass type you choose is mounted on the door frame. These door models are suitable for any environment thanks to their material and appearance. Even if the models of aluminum doors change, their durability and insulation will not decrease, or they will not wear out very quickly. That's why you can use these doors for many years. The change of aluminum door models does not have much effect on pricing, so aluminum doors are economical in every way. You can see these types of doors at the entrances and exits of the apartments, shopping malls and detached houses to look decorative and modern. It can look very stylish in rooms with large widths. In this article, we talked about the pricing of such doors, for detailed information, you can send us an e-mail or call us.
Aluminum Stacking Folding Door System
The aluminum stacking folding door system works as follows. Foldable doors have wings and when the wings are opened, the other partitions turn towards the door located in the corner, as in the windows. Aluminum doors are produced with a heat and sound insulation system, so their usage areas are wide-ranging. Aluminum door systems uninterruptedly connect the interior and exterior spaces and allow you to see these places very comfortably. These door systems can be produced in different colors and features. The properties of the door can be increased or decreased. Aluminum doors can be turned into automatic doors and used as such. While limited glass can be used in wooden or PVC materials, aluminum door and window systems can create wider openings. Aluminum doors have a high moment of inertia to carry the load of wind and other weather conditions, especially in high buildings. In addition, if you want to examine the glass types, you can reach our related page via the link and see the glass types suitable for your aluminum door. Do not forget to follow us and contact us for detailed information.