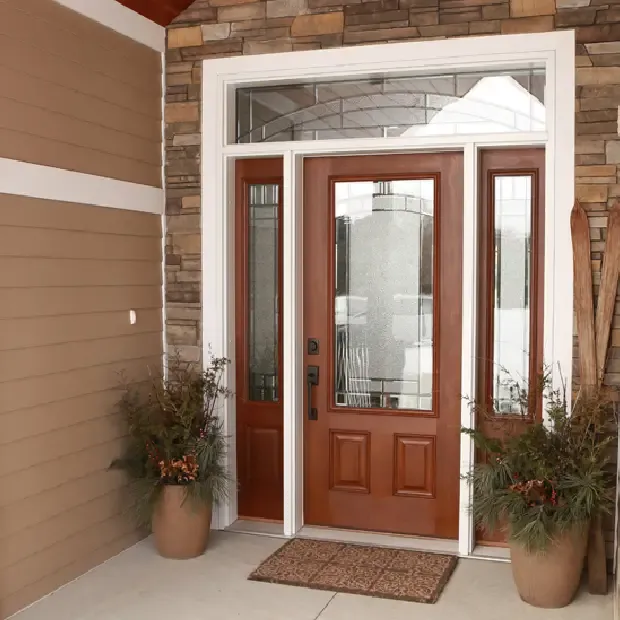 In this article, we will give you information about the exterior doors. What is one of the first things that catches our eye when we enter our house? Of course, it is the exterior doors of our house. Although we do not care much about choosing the exterior doors when designing our houses, choosing the right exterior doors can change the whole look of our house. The exterior doors you choose can add a much nicer look to your house than you imagined. It will be more accurate for you to choose it in a way that will create integrity with other important parts of your decoration, such as the color of your home, the layout of your rooms, and give your home a more elegant look.
Although we do not care much about choosing an for our homes, decoration starts with choosing the right door. After reading this article, you will be able to decide whichwill be right for your home, thanks to the information we will provide. In addition to all these, you will be able to find answers to all the questions you wonder before buying the right door for your home.

We have said before that door are a very important part of the decoration of our home, but doors are not only important for the appearance of our home decoration. Prevent the spread of noise pollution from outside to the house. Exterior doors also prevent the cold outside from spreading to our home in winter. With the uPVC doors and aluminum doors that we produce with care, you can save energy and ensure that your home is spacious. There is no doubt that you will add a more elegant and beautiful appearance to your home with these exterior doors. Before we give you more detailed information about the exterior door we produce, we would like to state that we will also give you information about exterior doors prices and exterior doors systems in this article.
As the Elitetec family, we have been trying to offer you diversity by producing different models of doors and windows since the day we were founded. While trying to offer diversity, we attach importance to quality in all the products we produce. Although we will give you information about exterior doors today, you can examine our other door models such as aluminum hinged doors or uPVC tilt turn doors on our website. If you are ready, we can move on to our article. Let us answer all your questions about exterior doors.
Design Your Living Space with Exterior Doors
While you are designing your home that you want to have an elegant and stylish look, every furniture and accessory model that you will use to support this perfect decoration you want to create in your home has a very important role. This role is sometimes important factors that will support stylish decoration, and sometimes functional features come to the fore. Stylish and functional exterior doors that support the design of your living spaces give a clue about the decoration of your perfect home. As Elitetec family, we know how important the exterior door is for a house and we try to offer you elegance and quality at the same time.
Most Durable Exterior Doors Models
Elitetec exterior door models that you will prefer in your home are the reason for preference not only with their design but also with their durability features. We trust the durability of all the exterior door models we have produced. Your exterior doors that you will prefer in your living spaces are important not only with the elegance of its design, but also with the durability it offers to the user and the space. In summary, the door of your house should be not only a stylish exterior door, but also a solid exterior doors.
Exterior Doors System
In this part of our article, we will give you information about the exterior door system. The exterior front doors systems we produce will be long-lasting, durable and the right choice for your other living spaces. Like all the environmentally friendly doors and windows we produce, the exterior front doors we produce can adapt to any area used. These doors have different color options. Thus, they can offer you many profiles.
These doors, which can be designed in any size and feature, will give your living space a simple and stylish look. If you see deficiencies in the decoration of your home or office and you are looking for a simple and modern solution to complete it, you are at the right place. When you choose Elitetec family, you will take your living space to the next level.
Exterior Doors Prices
As we approach the end of our article, let us give you information about exterior doors prices. The price of the door you will choose for your home will differ according to the material used in the production of the door and the functionality of the door. For example, doors made of materials such as uPVC are more economical than doors made from other raw materials. As the Elitetec family, we have been considering your budget while providing you with the best service since the day we were established. Therefore, when you choose the Elitetec family, you do not have to worry about exterior doors prices. We also assemble many of the products we produce ourselves. Thus, we save you from extra costs such as setup fees.

When choosing an exterior door model, you should consider the details such as the design and color of the furniture you prefer in your living space. You can achieve a harmonious and stylish concept thanks to the fact that the exterior door models you prefer have common points with your furniture and interior decoration. In this article, we tried to give you information about our exterior doors that we have carefully produced. If you are tired of home decoration and want to start renovating your home by changing your doors, do not forget to contact us.