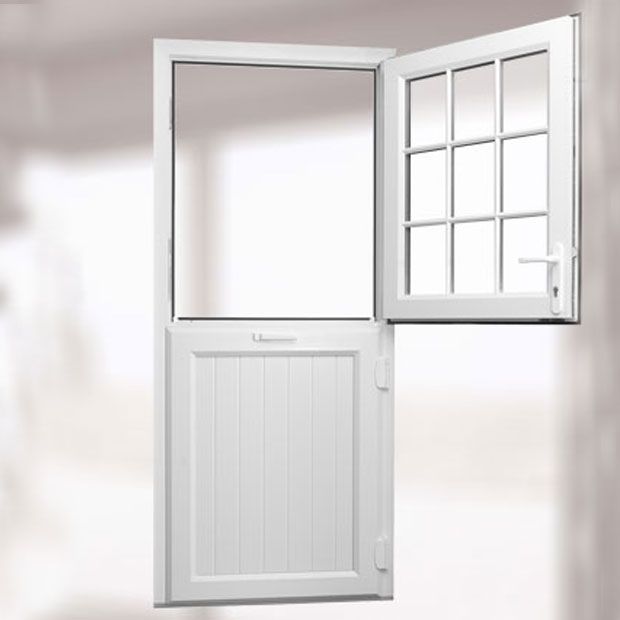 Are you wondering about the features of uPVC stable doors and how it works? If the answer to your question is yes, this article is completely for you. First of all, let's mention about what the uPVC stable doors are. uPVC is a plastic used in doors and windows and has a wide range of uses. The uPVC system is preferred and used by many people. uPVC stable doors have many advantages, and thanks to these advantages, you will both save money and feel much more comfortable.
uPVC stable doors are often known for their heat-insulating properties and even if you live in South Africa or in the cold regions of Canada, if you have this type of door, this feature will definitely please you very much. Such doors keep the temperature inside your house, so you will be saved money. There are many other features of uPVC stable doors. For instance, there is no need to carry out detailed maintenance, such doors are durable and have a long-lived. Such doors have sound insulation. You can simply wash the uPVC doors with soap and water will be enough for this.
The uPVC frame has a long-lived and looks new even after many years. You do not need to repaint or sand it. Doors of this type are naturally resistant to moisture, pollution and mold. It does not swell, does not rot and does not wear out. Thanks to these features, this type of door is more preferred than wooden doors, and these are the main reasons. In addition, uPVC doors are durable. You may think that it is plastic and not solid, but it has successfully passed many tests. When used in combination with toughened security glass, not one intruder can enter through this door. This is almost impossible. uPVC doors are environmentally friendly and will never harm nature. uPVC is a more recyclable material than metal or wood alternatives. You can use this type of door for many years. It will be much easier to ventilate your house thanks to uPVC doors. uPVC doors are very useful for your home, and you can make these doors according to your style according to the style of your home.
uPVC Stable Doors Prices
uPVC stable doors have a rather advantageous price compared to other types of doors. uPVC stable doors prices are much cheaper than for wooden, metal or other types of doors. There is no need to worry about the uPVC stable doors prices. uPVC stable doors are affordable for the economy of every family. These doors protect your economy, protect you and make you happy. The cost of uPVC is low, but it has a fairly solid structure. That is why attention has been paid to these when determining the uPVC stable doors prices. You can see uPVC stable doors prices on our website, or you can find out the prices by contacting us. uPVC stable doors are in a much better position in terms of strength than other types of doors, and despite the fact that these doors are so strong, they are quite affordable in price thanks to the raw material from which they are made. Thanks to this, you can keep your home safe at an affordable price and save energy. Prices of uPVC stable doors are similar in many countries of the world, and price fluctuations are not seen much. That is why its sale takes place in many countries.
uPVC Stable Doors Models
In this article we will talk about the uPVC stable doors models. uPVC doors are produced in many different models and are available for sale. Customers who want to purchase uPVC doors often ask manufacturers to produce an original door. uPVC stable doors models are suitable for any type of house and are manufactured according to the customer's request. uPVC doors usually come to people's minds as follows, a white door and a large framed glass. But these doors can be manufactured very differently, as can be seen from the models. I mean, please don't think of a single model. Because uPVC doors are suitable for the desired style and can be produced in different varieties. uPVC stable doors models may be patterned, there may be a color difference, there may be no glass.
uPVC door models are suitable for any environment thanks to its material. For example, if you want a damp area to have a door, you can choose this type of door or You can use the uPVC door as a room door. For example, you may want the bathroom and it to be produced harmoniously. Even if the models of uPVC doors change, there will be no reduction in their durability and insulation, or they will not wear out very quickly. Even in this way, you can use these doors for many years. The change of uPVC door models does not have much effect on pricing, so uPVC doors are economical in every way. On the other hand, uPVC sliding doors can be characterized as different models. You can check out these types of doors via the link. Such doors are usually suitable for summer cottages or large rooms. In rooms with a large width, it can look like a garage door and look very stylish. Such doors are usually suitable for summer cottages or large rooms. In rooms with a large width, it can look like a garage door and look very stylish. We have already mentioned stable doors in this article, and we continue to mention.
uPVC Stable Doors Systems
uPVC stable doors systems have a stylish and aesthetic appearance. These doors are quite strong and durable. These doors are made for thermal insulation, and their distinctive feature from other doors is that they are stable. Stable doors open in one direction and are aimed at separating the rooms from each other. But sliding doors are not like that. For example, if you do not want to separate your balcony from your room, it is recommended to prefer sliding doors. Stable doors isolate sound very well and are an effective solution for insulation. Stable doors divert air well inside and absorb air very quickly.
uPVC stable doors are not opened by tilting or designed to turn the door handle upside down and provide little ventilation. Such doors do a lot of ventilation and insulation. If you want continuous uninterrupted ventilation in your room, this door type is completely for you. There are quite a lot of lock systems on uPVC stable doors. door locks can be made from many different places, and this is a factor that increases security. Also, uPVC stable doors have a rather simple and elegant appearance compared to uPVC folding doors. If you want to browse folding doors, you can also click on the link and browse our folding doors page. The systems of uPVC stable doors remain quite simple compared to other doors, and their scope of use is obvious. This type of door is designed according to certain places, and the operating system of this door is designed in accordance with these areas. Don't forget to check out the other pages for more information and details for uPVC doors.