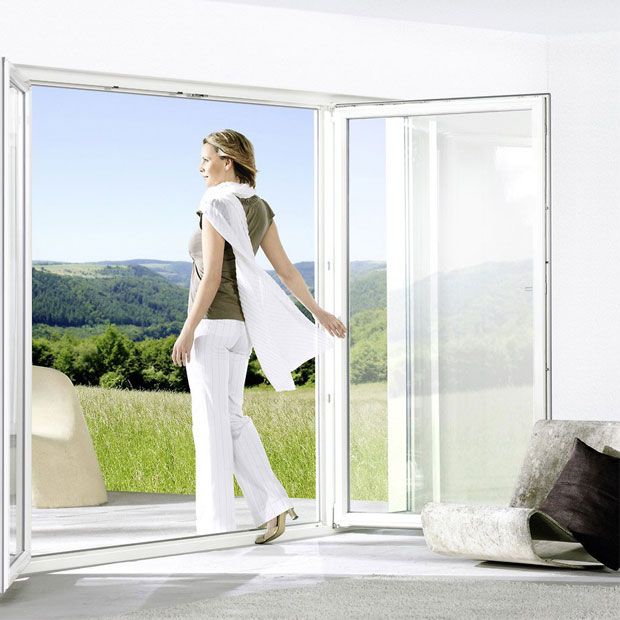 In this article we will talk about uPVC french doors. uPVC french doors are known for their width, knockabout, maximum ventilation and features that you can use to make practical transitions in your home. Doors of this type are often used to make a practical and easy transition from the house to the garden. If you have a garden or a large balcony, this type of door is completely designed for you. In addition, uPVC french doors have a simple and stylish appearance. We can also design this door according to your home type.
uPVC french doors offer maximum ventilation of your home and are sturdy. Also, assume that you live in a very noisy place. You are overwhelmed by the crowds of people and the sounds of vehicles. When you enter your home, you both want to breathe a sigh of relief and you don't want to hear these sounds. If you are tired of these problems, uPVC french doors can solve this problem. There are many other features of this type of door. First, as you know, the noise reduction feature is quite popular. This type of door is not made with a material that will harm nature, that is, it is an environmentally friendly product.

You do not need to care for this type of door every day, and it takes quite some time for these doors to get dirty. You can use the French door for many years. It does not break, bend, fade or rust due to its material. Another feature of uPVC french doors is that they do not endanger your safety. uPVC doors are not like a steel door, but they are even more robust than a steel door. You have the ability to lock your door from many different places. Even if a thief tries to break into your house, you can be sure that he will stop breaking into your house because he/she cannot open these locks.
The different feature of this door from other doors is that the french type uPVC doors manufactured using door leaf profiles are ideal for French balcony demands that are commonly used today with their wide opening that they offer along with easy operation. In French doors consisting of two wings, you can open the wing by pressing the handle down, and the second wing can be opened by pulling the hidden lever located at the bottom of the other wing. uPVC french type doors have successfully passed all the tests conducted and have proven their safety, robustness, noise reduction and thermal insulation properties. If the room where you use this type of door receives a lot of wind or there is a lot of noise around you, don't worry, it will eliminate all these problems.
uPVC french type doors can be manufactured and decorated according to your requirement. You will be pleased to have this door in your home. It can also be attached to such doors in decorative glazing. If the windows also have heat and noise insulation, the interior of your house will be as quiet as a movie theater and will absorb cold or hot air coming from outside according to the seasons. uPVC doors are a pretty good choice for your home we are sure that you will be happy to use these doors and we have no doubt that you will be sure too. In addition, you can click on the link to visit the uPVC casement windows page. Windows suitable for the uPVC french type will come in handy for you and Together with the door you will have a harmonious look in your home.
uPVC French Doors Prices
If you are looking for a practical, affordable, family-friendly and stylish door in your home, you can choose the uPVC french door type. uPVC french doors prices are quite affordable compared to wooden or steel doors. Therefore, it is often preferred by people both in terms of price and performance. In order to get detailed information about the uPVC french doors prices, you can review our page further and contact us. When determining the uPVC french doors prices, attention is paid to the cost of production and labor. Thanks to its robustness, it will be a much better choice for you to choose the uPVC door type instead of buying another door too expensive. Do not think that the security or robustness of these doors is low, in order to the uPVC french doors prices are affordable. Because, as we have said, these doors have successfully passed the tests and you can find the comfort you want in your home thanks to these doors. Generally, people pay attention to the price when choosing a door, and uPVC doors provide this condition in a positive way. The prices of uPVC doors are generally in the same range, and when you want an original design, it is possible that the price may vary according to the design. In addition, you can click the link to get information about uPVC bifold windows and visit our page for more detailed information.
uPVC French Doors Models
In this article, we will talk about uPVC french doors models. We know that every person wants to be different from other people and they design their houses in this way. It makes the house look different on the doors inside the house, and therefore uPVC doors are in a very advantageous position compared to other doors. uPVC french doors models are produced in many different models and offered for sale. Therefore, you can choose and choose to add a different atmosphere to the room, but we recommend that you use this door type to provide easy access to your balcony and garden. Customers usually present creative ideas when purchasing this type of door and production is made according to their wishes.
uPVC french doors models are suitable for all types of houses and are produced according to your home and of course your tastes. It is wrong to think that these doors are produced in a single model. uPVC french doors can be patterned, produced in many different colors, fitted with glass, or produced without glass. The strength and durability of the product are the same in each model. The raw materials used in the models can never be different and a different material cannot be used. Its properties can be increased or decreased. For example, if you want the lock system to be more, it is produced accordingly. It is the right choice to use uPVC french type doors in your summer houses or houses with gardens and balconies, and you can easily choose the model according to the area you will use.
Although uPVC door models change, there is no wear or corrosion. Therefore, there is no doubt that you can use these doors in the model you want for many years. In this article, we talked about the models of this type of door in detail. If you are wondering about the working system of uPVC french type doors, you can continue reading our article.
uPVC French Doors System
uPVC french doors are known for noise reduction, thermal insulation and having wings in the working system. This is how the uPVC french doors system works. It is manufactured using door leaf profiles. This type of uPVC doors offers easy use and allows you to have a wide opening. Today, this type of door is widely used. In addition, the system of this door type is different from other doors. uPVC french type doors are like a window and can be opened from the top. Thanks to this feature, it attracts many customers. PVC french type doors are produced in a way that customers can use easily. The way all uPVC door systems work is designed for easy use and each door type has distinctive features.
Although the systems of all doors are different, the features they offer are the same and also their designs are different. You can perform this operation without using too much force while opening and closing the door. The operating system of the door is very simple and comfortable. uPVC french door systems are like this. We talked about PVC french doors in this article. If you want to examine more different uPVC products, you can continue to use our website. You can contact us for detailed information. Rest assured that we will choose the best door type for you. You can read to our "uPVC windows colours" know more about colours of uPVC.
| K=1.80 W(M2.K) | Thermal |
| --- | --- |
| Rw = 44dB | Sound Insulation Rating |
| qo = 0.76M3/h.m | Air Infiltration |
| ΔP=300Pa | Water Penetration |
| Positive= 3.5kPa | Ultimate Strength |
| Negative= 3.5kPa | Wind Pressure |